Scalasol®
Solar Protection Film | NT65 | Medium tinted
Medium tinted transparent

65% Solar heat reduction

Interior assembly
High quality window film
14 days reflection period
Delivery time 3-5 working days
More information? Neem contact met ons op
Product description
NT65 Solar window film medium-tinted
Solar window film is the perfect answer to excessive heat from the sun. Window sun block film is composed of several layers to reflect heat from the sun and to stop that heat penetrating the room. The NT65 heat blocking window film is medium-tinted and will look good in any home-decor style. NT65 film (medium-tinted) creates a luxurious ambience in your home or office and can block up to 59% of heat. As well as reflecting excessive heat, NT65 protects against 99% of harmful UV radiation. Harmful UV rays can cause your furnishings to fade. In other words, NT65 film has a two-fold effect. NT65 film is the medium-tinted solar window film in our range. The medium tint of NT65 film is perfect if you want to apply solar window film but want it to be subtle.
Uses of window sun block film medium-tinted
NT65 window heat blocker film medium-tinted is specifically designed to keep out the heat from the sun. However, as well as blocking heat, NT65 film reduces glare from the sun by 61%. It means that screen vision when you use things like computer monitors, television screens and tablets improves considerably without any annoying glare on the screen. Window sun block film lets 65% of the light inside – the daylight access – which is an extremely large percentage compared to its heat blocking properties of 59%. The daylight access refers to the amount of light that the window still lets in once NT65 film has been applied to it. Solar window film offers the best possible protection against heat and UV radiation. NT65 is medium tinted when viewed from the inside and from outside. NT65 film is intended for indoor use, which means that this window heat blocker film should be applied to the inside of the pane.
The practical advantages of NT65 film
Here is a brief list of the advantages:
• NT65 window sun block film blocks out up to 59% of heat
• Adds a touch of luxury because NT65 is medium-tinted
• NT65 solar window film reduces glare by 61% as well as stopping heat
• It prevents your furniture and furnishings from fading due to harmful UV radiation (99% protection)
• NT65 film is easy to apply yourself
Order NT65 window sun block film cut-to-size, in a standard size or as a whole roll
Thanks to our unique made-to-measure module, you can order NT65 film cut-to-size. You will find that option under the tab 'made-to-measure'. You can order NT65 film to your exact measurements, down to the last millimetre. However, if you prefer to order NT65 window heat blocker film in a standard size, you will find the options under the tab 'standard sizes'. If you are working on a large project and would like to order a whole role of NT65, go to the tab 'whole roll'. The tabs are on this product page.
How to apply window film
This film is easy to apply if you follow our application instructions which come with the product. The application instructions explain step-by-step how to adhere the window heat blocker film. A felt-edged squeegee is an essential piece of equipment which will help you apply the film absolutely perfectly. The felt-edged squeegee will help you smooth out moisture from under the film. NT65 film should be applied to the inside of single and double glazing (not Low E glass with a coating).
Please note: If you have any grade of Low E glass including triple glazing you should never apply this kind of film, NT65, to the inside of your window. Low E glass is coated with a metal finish which does not combine well with solar window film. In fact, it can often cause an expansion crack in the pane. If you have Low E glass, you must always apply window sun block film to the outside of a window. In that situation, there is no risk of an expansion crack. Click here for our outdoor/exterior quality version (NT65E).


---


Product specifications: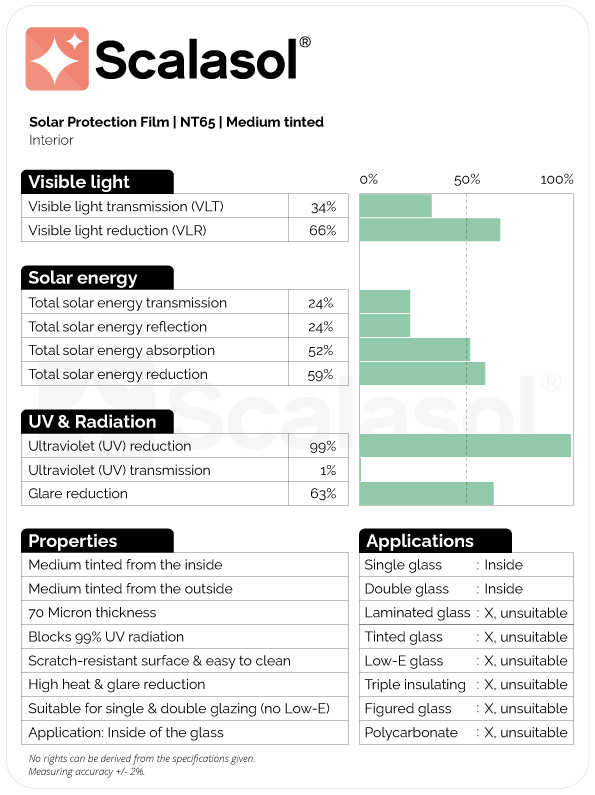 ---
 
Warranty conditions:
Click here for the warranty conditions of the NT65
---
---