Scalasol®
Explosion proof Window Film | Qimpac | Transparent
Protection against broken glass

EN13541 - ER1 Certified

Interior assembly
High quality window film
14 days reflection period
Delivery time 3-5 working days
More information? Neem contact met ons op
Product description
Blast mitigation film prevents flying shards of glass
This type of explosion proof window film is 475 microns thick, so it is often used in industrial settings, e.g. areas close to incinerators, storage of hazardous substances, waste processing and the vehicles used on the premises. The risk of explosions is higher than average in such spaces and vehicles. Glass is the weakest spot in buildings and vehicles, and particularly vulnerable when the air pressure becomes dangerously high (blast). If something explodes, blast mitigation film will hold the glass together, preventing injuries from flying glass shards. Qimpac bomb proof glass film is formally classified in the EN 13541 – ER1 class, with certification issued by the testing laboratory for safety glass at Fraunhofer EMI. The official certification for the explosion proof window film can be found at the bottom of this page. Protect yourself and your employees from flying splinters and shards of glass in the event of a blast.
Transparent Qimpac explosion proof window film
Our bomb proof glass film is transparent and consequently does not change any aspects of visibility or daylight, either from the inside or the outside. The film does not alter the architectural features of a building, so this bomb proof glass film can be used in historic or listed buildings. Another advantage is that this blast mitigation film blocks up to 99% of harmful UV radiation, so your furnishings and belongings will not fade. This explosion proof window film is transparent and invisible on the pane. Qimpac film is a very rigid kind of window film, and is extremely effective as protection against burglaries. Qimpac holds the glass together so it is practically impossible for any burglar to enter the house through the glass. The glass holds together like a shield. This two-fold effect means that Qimpac film is a multifunctional explosion proof window film.
The practical advantages of transparent Qimpac blast mitigation film
Here is a brief list of the advantages:
• Qimpac blast mitigation film is officially certified (EN 13541 – ER1) by Fraunhofer EMI
• It is not visible on the glass, because Qimpac film is transparent
• Qimpac film is often used in industrial settings
• The glass holds together when broken, so there is no danger of the shards breaking loose
• Qimpac blast mitigation film is easy to apply yourself
Order bomb proof window film cut to size, in a standard size or per roll
Thanks to our unique made-to-measure module, you can order Qimpac blast mitigation film to be cut to size. You will find that option under the tab 'made-to-measure'. You can order Qimpac blast mitigation film to your exact measurements, down to the last millimetre. However, if you prefer to order Qimpac in a standard size, you will find the options under the tab 'standard sizes'. If you are working on a large project and would like to order a whole role of Qimpac, go to the tab 'whole roll'. The tabs are on this product page.
How to apply window film
Explosion proof window film is easy to apply yourself with the aid of our special tools. A weighted squeegee is an essential piece of equipment which will help you apply your window film absolutely perfectly. We recommend using a weighted squeegee so you can apply extra pressure to the glass, which is needed due to the rigidness of the film. Bomb proof glass film should be applied to the inside of a window. It can be used on all kinds of plate glass (and on all grades of Low E glass including triple glazing). Our window film always comes with clear application instructions which explain, in a step-by-step plan, how to apply the film.
Please note: This kind of film cannot be applied to structured glass such as patterned glass and wire-reinforced glass.
* Explosion-resistant foil serves as an extra protection against an explosion. SCALASOL® can never be held liable for any personal injury / material damage with the subsequent costs.
 
---

Product specifications: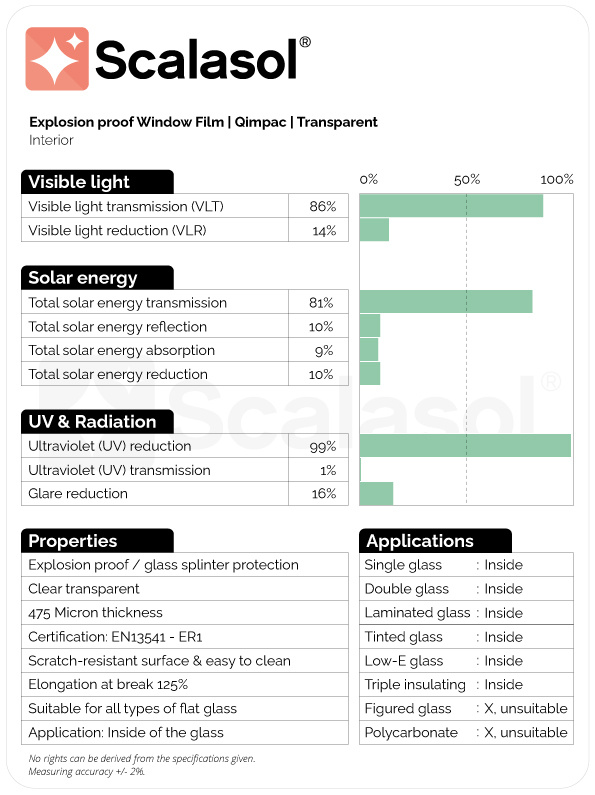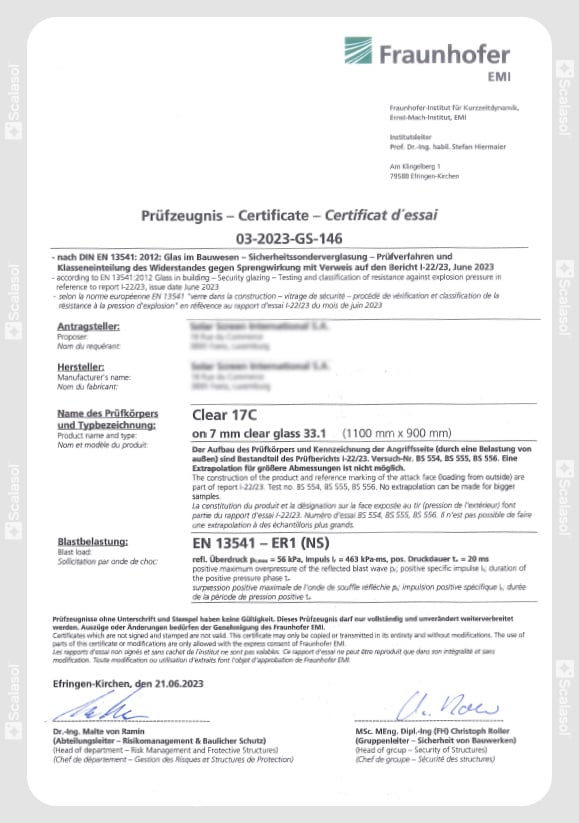 ---
 
Warranty conditions:
Click here for the warranty conditions of the Qimpac
---
---